Visit philly.com to read the following yoga practice story in full or start with the taster below:
This time of year is without a doubt my very most favorite. The air has a sudden chill which invites me to clutch to a cup of tea every second of every day. The days are short, and although the little amount of sunlight could be considered unfortunate, it's that much more time that I get to see the holiday lights glimmering in windows. It is the season of gatherings and holiday parties. We exchange gifts and my heart (and my stomach) feel so full.
See this post and more Yoga & Meditation related stories at DownDog Diary:
By Brittany Everett, Owner, Grace & Glory Yoga Fishtown
It is also the season filled with magnificent rich food – you know the kind you only make once a year. For my family, we make stuffed snow peas on Christmas Eve. We carefully slice the top of each small pea pod and then stuff each one carefully with cheese. As the evening continues we line the table with a half dozen types of cheese, champagne, shrimp cocktail, crab cakes, stuffed mushrooms and more delicious treats filled with butter, cream or mayonnaise. 'Tis the season of over indulgence so we tend to "treat ourselves" past the point of satisfaction. Master teacher Baron Baptiste describes this as a "food fog" which leaves us feeling tired, bloated, and lethargic. These few poses will help combat the holiday muck and leave you feeling lighter.
Revolved Crescent Lunge
From Downward Facing Dog, step your right foot in between your thumbs. As you keep all of your toes facing twelve o'clock, pull your left heel directly on top of your left toes. On your inhale lift your hands straight up to the ceiling. On your exhale bring your hands to your heart center and twist toward the right. Hook your left elbow over your right knee. With each exhale take your top shoulder behind you and press your left rib cage underneath of you. Repeat on the left. Not only will this pose stretch any tightness you have in your chest and low back, it will be begin to rinse your liver, spleen and kidneys of toxins and tension.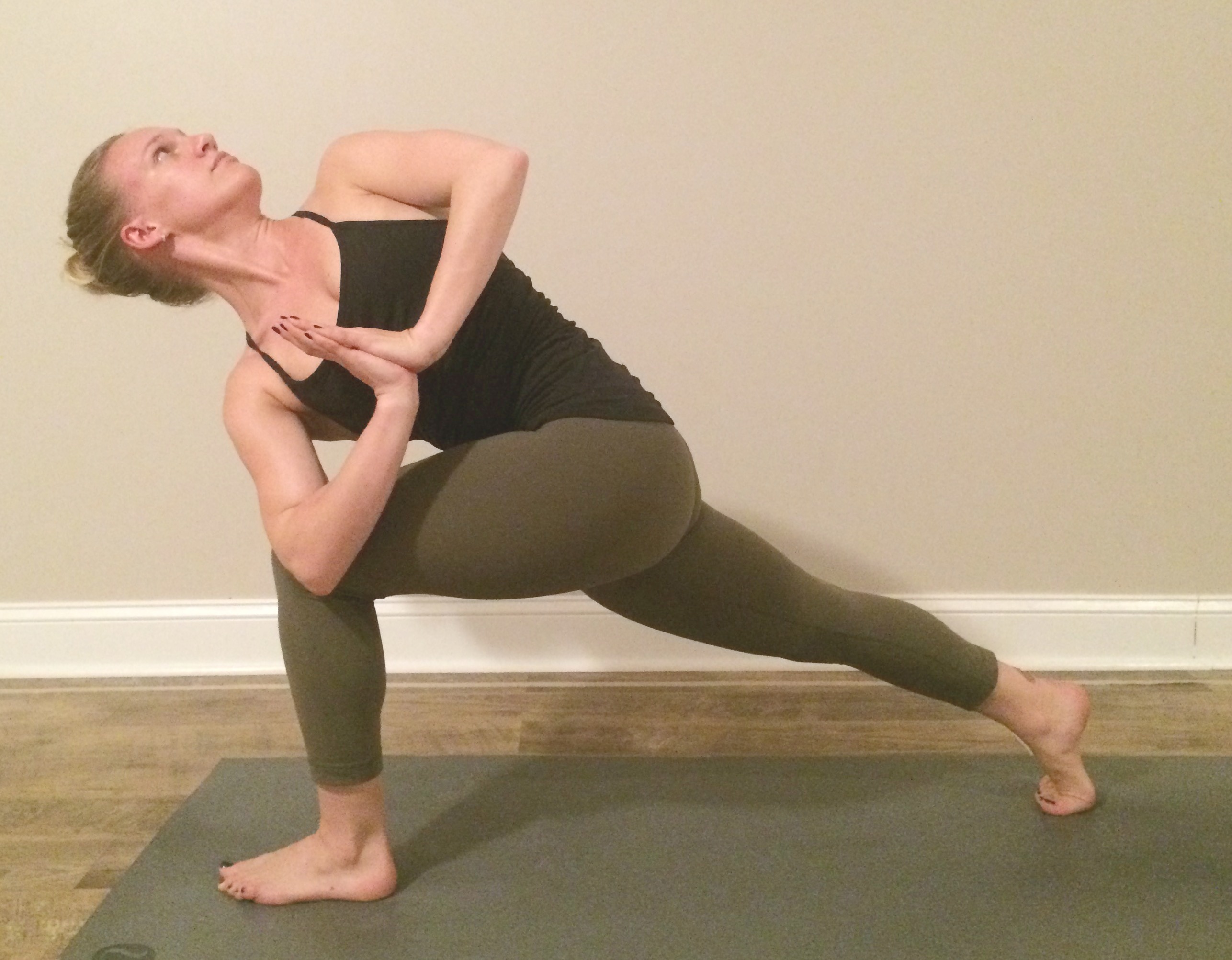 See more at philly.com
Philly.Com: 4 yoga poses to wring out the holiday season